Labas !
Aleksandras Ziselis Machtas
was born and raised in Kaunas.
He was a Lithuanian Jew.
He was also a chess player.
Not just a player.
A champion.
Not only among
his friends and relatives.
He was the champion of Lithuania.
Not once.
He has 7 championship titles
to his name.
As of the Summer of 2009 -
More than any other chess player
in the history
of independent Lithuania.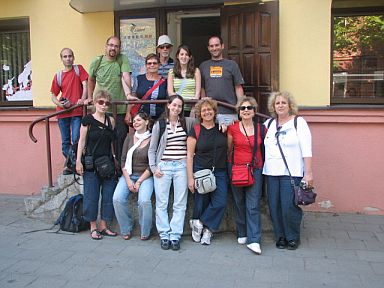 He was also the manager
of one of the most important banks
in the first Republic.
The Central Jewish Bank.
( " Centralinis Zydu Bankas " )
situated in Kaunas.

In 1936 -
Ester Ente and Alexander Zisel Macht
together with their children
moved to Tel Aviv.

They never set foot
on Lithuanian soil again.
More than 7 decades
after they had left their homeland
some of their grandchildren
and great grandchildren did.